From "just in case" to "just enough" - the Soldier System allows the soldier to choose and combine the components of his combat gear according to the threat level and mission.
Scalability to threat and mission is one of the most significant features of the Soldier System. The possibility to adapt the protection level and equipment components to the requirements of an operation presents a major breakthrough when it comes to enhancing the performance and reducing the burden of the modern infantry soldier.
Scalability per Threat: The Scalable Tactical Vest STV
The Scalable Tactical Vest is scalable from a concealed vest to a full-up tactical vest with extremities protection. Within minutes, the soldier can adapt his gear to the respective threat level of a mission. This enables the user to avoid any unnecessary burden and therefore enhances his performance and agility drastically. The STV features a Vest Quick Release VQR mechanism, which permits the removal of the vest with one single-handed pull. Thanks to the smart design, the vest remains in one single unit, which facilitates its re-assembly.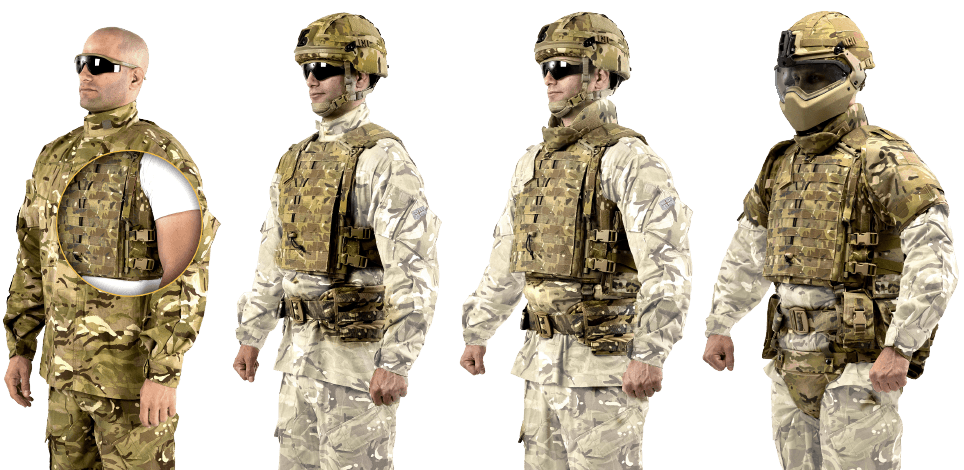 Scalability per Mission: Load Carry and Tactical Accessories
The compatibility of the components of the Soldier System across various levels allow the soldier to choose his equipment according to the length and nature of the mission. The choice between three backpacks (Bergen 90L, Daysack 40L and Assault Pack 17L) in combination with the DWD Weight Distribution System, the Source Hydration System and diverse tactical accessories enable highest performance levels and agility according to the approach "just enough" instead of "just in case".